International cooperation
26/12/2022 14:49
Delegation from Anseong city, Korea visit Sung Lim Vina Industry Co., Ltd
On December 23, a delegation from Anseong city of Gyeonggi province, Korea led by City Council Chairman Ahn Jung Youl visited Sung Lim Vina Industry Co., Ltd. at Son Nam Industrial Park in Son Duong district. The province's leaders from the Industrial Parks Management Board, the Department of Foreign Affairs and Son Duong district accompanied the delegation on the visit.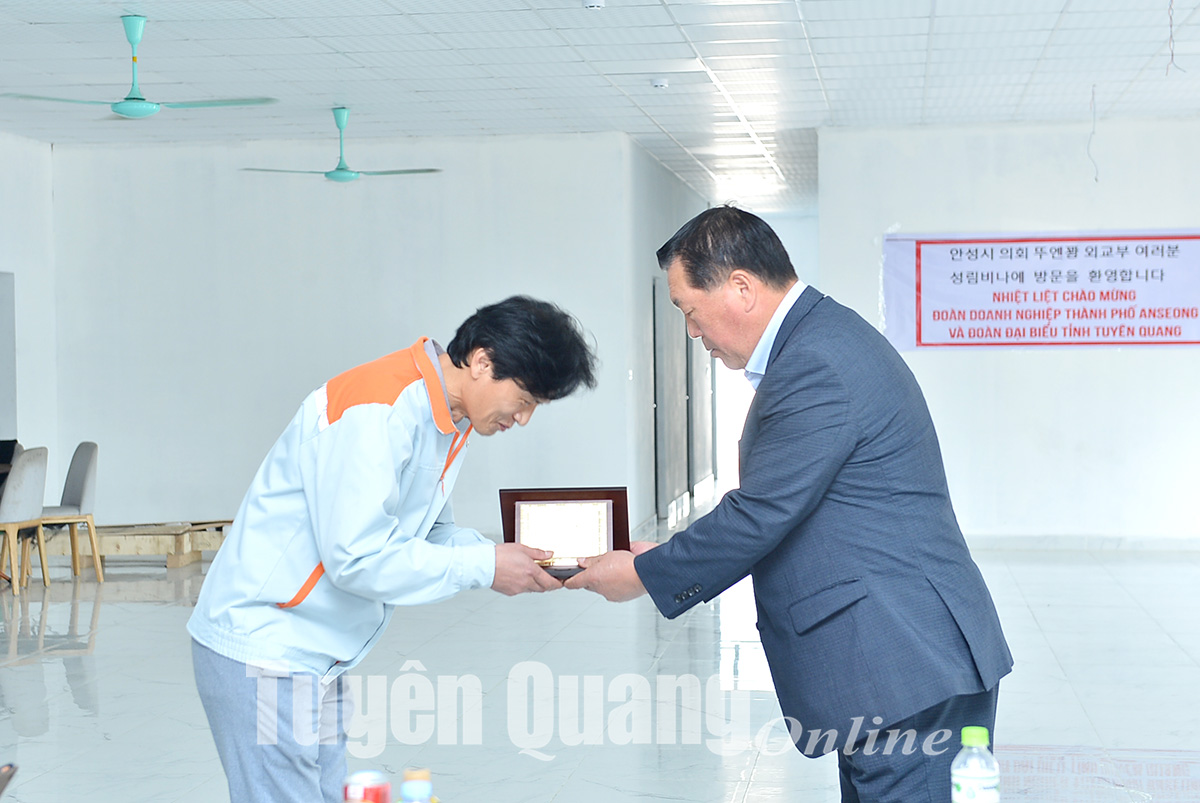 The company director You Insang receives the campaign medal awarded by Anseong City Council Chairman Ahn Jung Youl.
Sung Lim Vina Industry Co., Ltd was founded in 2019 in Tuyen Quang province. The company's factory buildings in Son Nam Industrial Park cover an area of 24,000 square meter ( m2) , of which the built production facility for phase 1 covers an area of 7,200 m2 while for phase 2 the production facility will cover an area of 6,100 m2.

Packaging bag (container bag) made from Polypropylene is the product that the company produces mainly for the domestic market and export. Currently, the company's construction of production facility for phase 1 is being completed for the testing process, then put it into operation in parts.
The company's built production facility for phase 1 will work at full capacity by 2023, attracting 110 employees, followed by the production facility for phase 2 that will be started building by 2024 and create job for 300 local workers.

The delegation from Anseong city visit a production facility of Sung Lim Vina Industry Co., Ltd.
On this occasion, Sung Lim Vina Company Director You Insang received the campaign medal, which was awarded by Chairman of Anseong City Council Mr. Ahn Jung Youl, for his business, as well as an elite member of citizen in Anseong city, a Korean investor who has boldly invested in his company in Tuyen Quang , one of the provinces that signed a Memorandum of Understanding aimed at developing the friendship with Anseong city.

PP container bag is made by the company.
The company director affirmed that the investment attraction policy of Tuyen Quang province supported and encouraged his company. Currently, there are seven projects being implemented by Korean investors in Tuyen Quang province with a registered capital of USD 33,988,813, creating jobs for 4,700 local workers.

According to Anseong city Council Chairman Ahn Jung Youl, the close relationship between Anseong city and Tuyen Quang province is promoting economic cooperation between the businesses of both sides, especially Tuyen Quang province, where a wave of Korean investors will hit in the coming years.
Translated by Tien Do
Source: baotuyenquang.com.vn
Tin mới nhất: