International cooperation
7/2/2023 13:50
Tuyen Quang promotes international cooperation at local level
Tuyen Quang province has promoted international cooperation at the local level, including cooperation between Tuyen Quang City and Imsil district, Jeollabuck province, Korea; Na Hang district and Lohmen region of Mecklenburg-Vorpommern state, Germany; and cooperation between universities such as Tan Trao University and Sakon Nakhon University, Thailand, University of Southeast Philippines, City University of Mabalacat, Philippines.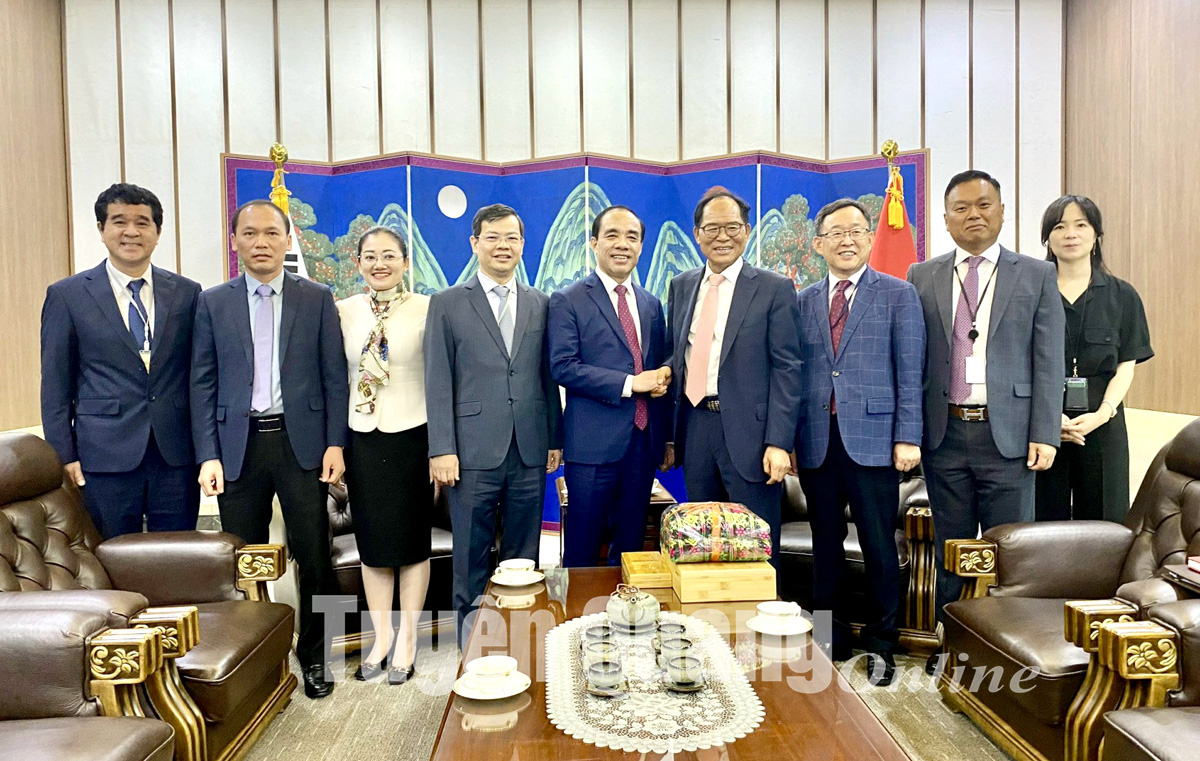 Leaders of Tuyen Quang province hold a meeting with Korean Ambassador in Vietnam Park Noh Wan.
The diplomatic relations between Tuyen Quang and foreign countries, including Japan, France, Great Britain, Belgium, the Netherlands, Italy, and Finland, are increasingly being strengthened.

Tuyen Quang province has proposed to receive support from the Consulate General of Vietnam in Fukuoka, Japan in order to continue strongly promoting cooperation between Tuyen Quang province and Oita province, as well as get the advice about recruiting worker of the localities in Korea, consisting of Imsil district of Jeollabuk province and Anseong city of Gyeonggi province. In addition, the province properly conducted the diplomacy between the province and foreign partners such as Australia, Turkey, China, Iran, India, and Egypt.

The province currently has two international agreements and 32 MOUs aimed at the international cooperation that are being binding. Some 16 investors from abroad, including Korea, Taiwan, Hong Kong, China, Australia, Samoa, have made the investment capital totaling USD 315 million or VND 7,123 billion into 18 FDI projects in the province. The implemented FDI projects have created jobs for 7,285 local workers, contributing to restructuring economy , promoting economic growth and improving the local people's quality of life.

In 2022, the investment capital for four approved programs and projects totalled VND 1,762 billion that was allocated from ODA. In the province, there are currently 13 organizations and foreign sponsors implementing 19 programs, projects and non-project aid with the aid package totaled one USD million, of which USD 900,000 came from six pleged aid packages.

The programs, projects being implemented and non-project aid provided by foreign donors and non-governmental organizations have brough the province high efficiency, being consistent with the province's goals for socio-economic development, contributing to the improving the people's quality of life, ensuring the social security, especially for women, children and ethnic minorities.
Translated by Tien Do
Source: baotuyenquang.com.vn
Tin mới nhất: