International cooperation
7/4/2023 8:2
Tuyen Quang attends investment promotion conference held in Luang Prabang
A conference was held by the Consulate General of Vietnam in Luang Prabang, Laos on April 3. The conference focused on discussing Vietnam's Trade and Investment Promotion in 2023. Vice Chairman of People's Committee Tuyen Quang province Hoang Viet Phuong as well as the province's department officials attended the conference.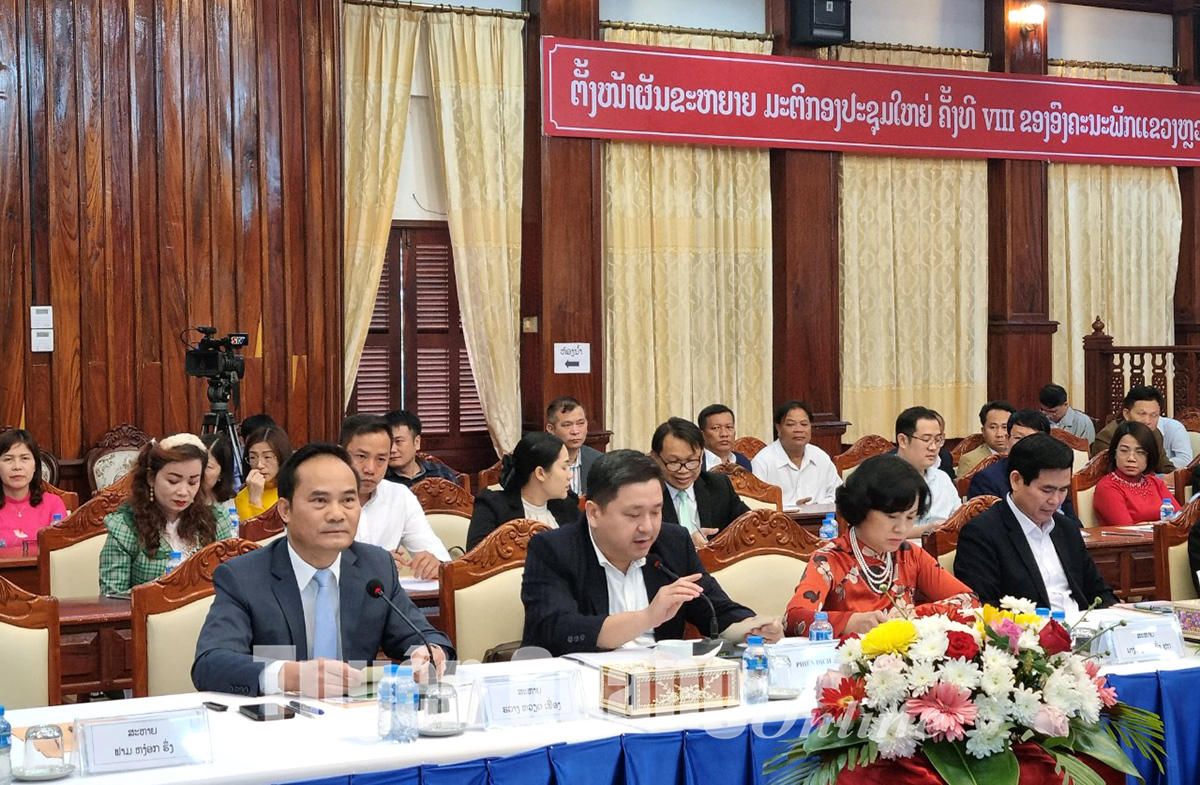 Vice Chairman of People's Committee of Tuyen Quang Province Hoang Viet Phuong attends the conference.
In his speech to the conference, Vice Chairman of the Provincial People's Committee Hoang Viet Phuong underlined that the conference created an opportunity for localities in Vietnam, including Tuyen Quang province, parts of northern Laos and businesses of both sides to share and broaden their experiences in cooperation in investing as well as seeking opportunities for invesment.

He delivered information about the province's socio-economic situation and the potential of the province's advantages as well as represented the achievements in the cooperation between localities in Tuyen Quang and Laotian partners over the years. He also expressed his desire to see a strong connection when the leaders of the localities of Vietnam and Laos, especially Tuyen Quang province and the provinces in Northern Laos, as well as agencies, organizations and businesses of the two countries cooperating in developing agriculture, culture and tourism, information and communication, investment, trade, education and training, etc.

The delegation of Tuyen Quang province has the photograph taken as a souvenir of the Consul General of Vietnam in Luang Prabang.
Delegates attending the conference exchanged and shared information regarding the cooperation between enterprises in Vietnam and Laos in the sector of investment. The delegates also presented information concerning the advantages, difficulties and obstacles as well as proposed taking right directions in cooperation for the near future in order to bring both sides benefits that will contribute to the two sides' socio-economic development.

At the conclusion of the conference, Consulate General of Vietnam in Luang Prabang Kieu Thi Hang Phuc emphasized the important of proposals offered by delegates to consider amending and changing the charters of Trade Agreement between Vietnam and Laos, and Vietnam-Laos border trade agreement. She said that proposals would be submitted to the Governments, ministries, agencies, and businesses of the two countries. The proposals that the charters of aforementioned Agreements should be changed and amended will fit the new situation, supporting businesses, improving the close coordination between ministries and businesses in the two countries to effectively fulfil the governmen commitments of the leaders of the two countries, doing well trade promotion in the two countries, creating favorable conditions for goods trade, proposing to hold the fairs for the purpose of investment promotion in provinces in parts of North, South and Central Laos, etc. "In the near future, Consulate General of Vietnam in Luang Prabang will continue to play a role as a bridge linking the provinces in Vietnam with the provinces in Northern Laos", she added.
Translated by Tien Do
Source: baotuyenquang.com.vn
Tin mới nhất: